COMING SOON! Volume 1 Number 1 10th Anniversary Edition VINYL LP Pressing of ORIGINAL SONGS by NCBGMA Member Bands!!!
COMPANION CD WILL BE AVAILABLE IN 2022
We are currently soliciting bands to be included on the project and will be limited to 10-12 songs (one song per band) on each CD/ LP. If your band is interested, email steve@NCBGMA.org as soon as possible. We will be looking for ORIGINAL SONGS written and recorded by the submitting band. The BAND will retain ownership of the song but we are asking for permission to print 1000-2000 copies of the song on each Volume for sale with all the proceeds going to benefit the NC Bluegrass Music Association.
We have enough bands already committed to be part of the project to produce TWO recordings. BUT we will be taking songs for a THIRD Volume. We will have the FIRST CD portion of the Vol 1 finished and ready for sale before the end of this year. The LP may take longer due to backlog of demand on LP companies and time for production. BUT WE WILL HAVE THEM! We plan to have Vol. 2 out shortly after Vol. 1 since we have the music.
Our objective is to: 1) Get exposure for BLUEGRASS in North Carolina 2) Promote 10-12 Bluegrass Association Member bands (per recording) 3) Raise money to help fund the NCBGMA for future projects. If this is successful, we will continue to do Volumes as the songs become available. The LPs and CDs will be marketed on our web site, at festivals and other events.
WATCH FOR MORE DETAILS and CONTACT US IF YOU ARE INTERESTED IN BEING INCLUDED IN ONE OF THE FUTURE VOLUMES !
Artwork below is subject to change. All participating member bands will be featured on the back cover with picture and information.
ONLY NCBGMA BAND MEMBERS (and honorary members) will be included on the recordings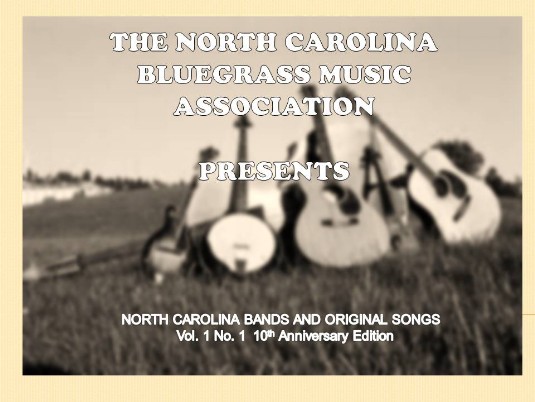 POTENTIAL BANDS and MUSICIANS FOR THE VOL. 1 NO. 1 Edition of NCBGMA PRESENTS
NORTH CAROLINA BANDS AND MUSICIANS with Original and Traditional Songs
WE HAVE RECEIVED ENOUGH SONGS TO PRODUCE TWO RECORDINGS
But keep them coming as we plan to start on #3
Yates Green and the Bluegrass Gospel Express
None Of the Above
Lost & Found w/ Ronald Smith and Allen Mills
Mountain Bridge
Clarence Green and Bob Atkins and the Sandy Valley Boys
Jacktown Ramblers w/ Gabe Wiseman
New River Bluegrass w/ Dr. Bobby Jones
Charlie Seachrist with Dan X. Padgett and friends
Ronald Smith with Lost & Found
Damascus Road w/Michael and Aaron Ramsey
Southern Express
Lee Ward & Southern Express
Strings of Victory
NEW RIVER with Dr. Bobby Jones and Horace Scruggs
AND MORE!!! LP will be out (we hope) for 10th Anniversary in 2022 (LP pressings are in great demand and take much longer to produce)
COMPANION CD will be available later this year